Thursday, July 12, 2007
The Artistic Stylings of Heather Lynn White
I found Heather on etsy
http://www.HeatherLynnWhite.etsy.com
and fell in love with her colors and images. The one that caught my eye right away was a Koi watercolor that was so amazing I had to snag it right up! I am amazed by her tallent and catch myself checking her site often to see whats new. I was able to ask her some questions for this blog and she was so kind as to answer them. Along with being a greta artist she has been an amazing person to talk to. Please visit her etsy shop and encourage this amazing artist.

Dkjewels

~ To begin, can you tell us a little about yourself?
HLW

~ I was interested in art from a fairly early age because my aunt and mother liked to paint and I always loved doing paint by numbers. Then eventually I liked painting my own paintings, and found that people liked them. This was encouragement enough for me, and I continue to create to this day. Since my adult career I have found that it is more than just creating pretty pictures, it can also be a form of therapy for me. I find that if I put all my feelings into a piece they no longer weigh heavily on my mind. I also enjoy the color relationships and visual elements of pieces. I find that my studio-art major at SUNY Potsdam University in New York fueled my desire to create. The faculty and other students continually pushed my limits and I found that I enjoyed the rugged critiques and demonstrations of my and other people's talents. I was very lucky to have an amazing painting teacher who taught me everything I know about oil painting. The watercolors I mostly learned on my own or from a class I took in 8th grade during evenings at one point in time. I do ceramics sometimes as well as sculpture but I find my true passion to be painting in it's various forms.
Dkjewels

~Who are some of your favorite artists or inspirations?
HLW

~Manet, Diterlizzi, Rebecca Guay, William Waterhouse as well as many other Pre-Raphaelite artists.My non artist inspirations include nature, wildlife, long walks alone while listening to music
DKjewels

~ What is your favorite medium?
HLW

~ watercolors and oils (I can't choose between my two babies)
Dkjewels

~ What is you favorite creation so far?
HLW

~ My fish and bird still life. I kept telling myself I never would be able to recreate that painting even if I wanted to. It was like I was in some kind of painting trance and created something completely unexpected. It was my first color oil painting. I still can't believe that one
Dkjewels

~ What other hobbies (if any) do you enjoy?
HLW

~ Horseback riding, volleyball, raquetteball, yoga, watching zombie films
Dkjewels

~ What can we expect in the future?
HLW

~ I'm trying to finish a series of 12 alice in wonderland themed paintings. I know, it sounds bad, but they're actually okay....because it's my own take on them. (white rabbit and chesspiece were completed, and the checkerboard and cheshire cat are some unfinished ones in progress)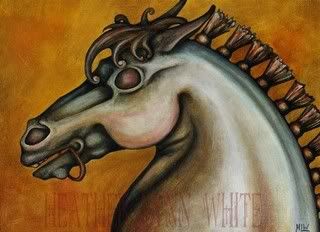 Dkjewels

~ Do you have any projects in the works?
HLW

~Yes, currently I am trying to paint things I can hang in an apartment I eventually get.

Thank you so much to Heather Lynn White for taking the time out to answer some questions.